MISSING SENIOR RAF OFFICER
05168 Air Vice-Marshal David F.W. Atcherley, C.B., C.B.E., D.S.O., D.F.C.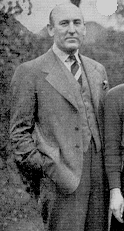 Air Vice Marchall Atcherby (Aged 48) was one of twin brother who wereboth AVMs. He was appointed A.O.C. of No. 205 Group MEAF in February 1952.

On Saturday, 7th June 1952 he took off from Fayid in a Gloster Meteor PR10 en route to Nicosia, Cyprus. a distance of about 400 miles – less than one hours flying in a Meteor – but never arrived. During the flight, contact was lost and his plane vanished - No. "Mayday" call was made. An intensive air search of the area by Valettas, Lincolns,Meteors, Beaufighters and Vampires of the R.A.F., aircraft of the Lebanese, Greek, Syrian, Egyptian and Israeli Air Forces and many civil aircrafts. The search continued during the hours of daylight for two days, but was eventually called off without result.
On hearing the news that his brother was missing, Richard Atcherley, took off from Newton and flew to Egypt to join in the search. The Atcherleys were a York family and his death was announced in the Yorkshire Evening Post
The most likely reason to be that he was flying very low and hit the sea as it is difficult to judge altitude at low level flying over water or desert, as happened with a Venom pilot in the1956 Suez Crisis.
Air Vice Marshal Atcherley was one of four RAF personnel who disappeared and are presumed dead whilst serving in the Canal Zone. They have no known graves nor any known memorial to commemorate their deaths.
CANAL ZONERS MEMORIES OF THIS INCIDENT
T. Maurice Wigley remembers: Soon after the arrival of AVM Atcherley at 205 Group, I had a phone call from his driver, one Cpl David Smith, who I was on the Trooper with when we went out to the Zone in April 1950. He asked me if I would like to join him as second driver. Straightaway I said "Yes please" and within a few days was posted from Kabrit to HQ 205 Group.
My main role was to ride 'shotgun', equipped with a Smith and Wesson revolver, in a Humber Pullman. Although the AOC's second car was a Super Snipe which would normally have been used to transport the wife of the AOC but, as he didn't have one, it didn't get a lot of use.
Batchy was a wonderful man to work for and very unpredictable. We had with us an RAF Police escort in a posh Landrover and we could be driving along when he would call out "Stop, Cpl see if you can hit that oil drum over there" and then he would have a few shots himself. When he first took up his post as AOC he was forced to live on a houseboat moored on a jetty at the edge of the Great Bitter Lake at Fanara due to the fact that his predecessor had been promoted to Air Marshal and made C in C of MEAF but would not move to the official residence at Ismailia which was also a houseboat! On the 7th June 1952 the AVM set off for a weekend in Cyprus where he used to stay with the Governor, Dingle Foot, brother of Michael, and all of the staff including the ADC were to move all of his belongings from the houseboat to the residence as the C in C had gone back to the UK. I well remember us driving to RAF Fayid and seeing the boss off in the Meteor and if memory serves me correctly, a driver named Harry 'Bob' Wise refuelled the aircraft as it had been brought in from another unit for the trip. Every week he would go off before breakfast and fly a Meteor from various squadrons in turn and on one occasion I was lucky enough to get a flight in a mark 7 flown by the ADC.
A memorial service was held for him at HQ MEAF, attended by the new AOC, AVM Harry Satterly, and I was to be at RAF Deversoir gate to transfer AVM Richard Atcherly from the Pullman to the Super Snipe as Air Ministry had said that he was not to fly solo in the Zone: what happened was that Richard came in with the Station Commander and the next thing I knew was him taking off in a Meteor!

Charles Agar recalls: AVM David Atcherley was known as 'Batchey Atcherley' – In 1951 he commanded the UK radar defence system and visited us at RAF Staxton Wold on August Bank Holiday Sunday in civilian clothes. We were only a Care & Maintenance Party as they were in the process of installing a new radar system. That morning I was i/c Picquet Post, the gates were always kept locked and I had wandered off to the little cookhouse for a cup of tea and was engaged in a friendly argument with our C.O., a technical Warrant Officer, when the Tech. Flight Sergeant came in with this "civvy". So I wandered back to the Piquet Post which was where I learned that it was 'Batchey' but he didn't complain. Mind you if he'd come a couple of months earlier he would had a shock because, for a couple of weeks, I, as a Cpl, was the C.O. – Happy Days!
Barry Dawson was on duty in the Tower at Fayid that day and remembers the intense activity to get search aircraft airborne.
Derek Allen recalls: He was known affectionately as 'Batchy Atchey' because of his rather unorthodox approach to his ground crew. He liked to get to know them and would call them by their Christian names rather than the service method of surnames – I know, I was one of them. He took off at 09.00 hrs in his 'meatbox' (Meteor) heading for Cyprus. At 12.00 hrs he had not arrived and the 'balloon went up'. Because of his popularity every 'Pig' (Valetta) was thrown in the air to search for him. After 72 hrs Wing CO Tech stood the search down.

Many thanks to Charles Agar, Keith Paver, Richard Woolley, John Mitchell, Dave Molyneux, Barry Dawson, Derek Allen & Don Thomson for their replies and from which the above has been compiled.

MISSING SENIOR RAF OFFICER – A POSTSCRIPT
AVM Marshal David Atcherly CB, CBE, DSO, DFC is commemorated on a memorial in Moascar War Cemetery. His name was one of 11 previously uncommemorated Canal Zone casualties that were uncovered by research veteran Cyril Blackburn. This now brings the total to 17 names on the new bronze memorial erected last August (2004).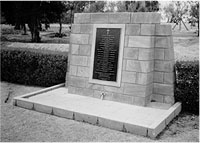 - John Mitchell ex: RAF 216 Sqdn Fayid 1953-55